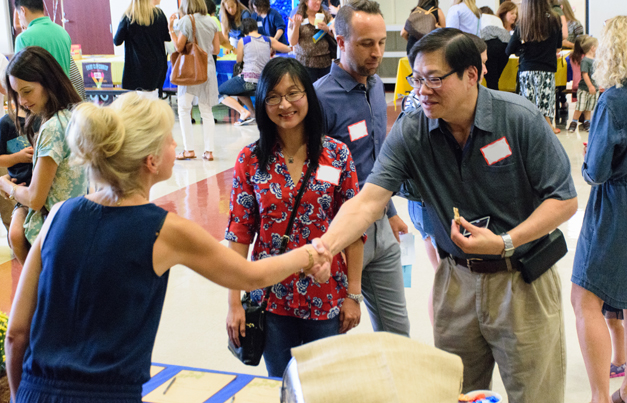 "Therefore, as we have opportunity, let us do good to all people, especially to those who belong to the family of believers." Galatians 6:10
The Auxiliary has been a tradition at Wheaton Christian Grammar School for more than 50 years. Its Constitution states that its purpose is to "serve God by helping to meet the spiritual, social, and practical needs of the school and its families." Our many volunteers, in partnership with the staff and faculty, bring to life the spirit of the school as they give their time and energy graciously with servant hearts.

All school parents are welcome to be part of the Auxiliary. We are blessed by the large number of parents who volunteer each year through its various committees. As you review the following committees and opportunities for service, please feel free to call one of the following Auxiliary officers if you would like more information, or are interested in participating.
The 2017-2018 Auxiliary officers are (left to right) Amy Shelton, vice-president; Carrie Lynn Reeder, treasurer; Brittany Fellowes, president; Micah Lindquist, chaplain; and Lindy Mathews, secretary.
Spiritual Committees
These committees serve as "the hands and feet of Christ" by praying, encouraging and ministering to the families of WCGS.
Sunshine
This committee provides practical help, support and encouragement for families who have experienced an illness, accident, death, birth or adoption. Chair: Allison Montalto.
Prayer Chain
Immediate prayer support is provided for the school community. Chair: Kim Moffatt.
Women's Bible Study
All school moms are welcome to join this informal weekly Bible Study and time of prayer for our school. Chair: Kristin Mantel.
Fathers' Prayer Breakfast
This committee organizes meals for the men of our school to join together to be inspired and pray for WCGS. Chair: Holly Taritas.
HOPE (Helping Others through Prayer and Encouragement)
Support is offered for single moms and dads dealing with separation, divorce, or death of a spouse. Chairs: Roger Burgess, Micah Lindquist.
Moms in Prayer
This group of moms meets weekly to pray for the children, faculty, and staff of WCGS. Chairs: Kimberly Rathbun, Heather Beck, and Kim Moffatt.
Service Committees
Service committees give parents the opportunity to provide very important support to the many efforts of WCGS.
Food Pantry
Food is collected throughout the year to help those in need within the community. Chair: Deb Miller.
Room Parents
Room parents assist teachers with field trips and other special class projects, organize class parties and other classroom events and act as classroom contacts for parents. Chair: Jush Danielson.
Staff Appreciation
This committee coordinates various efforts to show our gratitude to the teachers and staff of WCGS for all they do throughout the year. Chair: Cristie English.
Hospitality
Refreshments are provided for all Auxiliary-sponsored events. Chairs: Erin Dieter and Andrea Bilotti.
WCGS Community Garden
Student and parent volunteers plan, plant, and maintain the vegetable garden. The produce from the garden is used by the volunteers or donated to those in need. Chair: Tina Cumbey.
Social Committees
Social Committees provide fun and fellowship for the WCGS families.
School Family Welcome and Fellowship
This committee assists new and current families and students in feeling welcomed and appreciated. Chair: Janelle Burke.
Grandparents' Day
This committee organizes a special day to honor grandparents. Chairs: Sarah Gieser and Laura Swoboda.
Fundraising Committees
Pizza Day
This committee provides a hot pizza lunch for students and a break for parents from making lunch. The proceeds go to the Auxiliary's General Fund. Chair: Jinsun Santi.
Children's Christmas Sale
This committee crafts and purchases Christmas gifts for students to buy at a low cost for their family members. The proceeds from this annual sale go towards monetary Christmas gifts for non-faculty staff members of WCGS. Chair: Andrea Ortiz.
Popcorn & Kitchen
Popcorn is offered once a month for the students. The proceeds go to the Auxiliary's General Fund. The kitchen committee provides upkeep for this much-used school facility. Chair: Claudia Fabela.
Retail Fundraising
Box Tops for Education are collected and submitted to raise monetary gifts from the Auxiliary to WCGS for specific school needs. Additional retail fundraising opportunities that benefit WCGS are promoted. Chair: Shelli Stair.
Fall Fundraiser
Charleston Wraps offers a wide variety of wrapping paper, household items and chocolate. Money raised goes directly to funding Outdoor Education and other programs that the school offers to our students. Chair: Jen Eldersveld.
School Spirit
School Spirit apparel is sold to encourage students to take pride in being a part of WCGS on School Spirit Days. Chair: Monica Lanham.
Auxiliary Board-Sponsored Events
First Day Welcome
On the first day of school, all parents are given a chance to renew acquaintances and to sign up for various Auxiliary committees.
Fun Fair
This is an all school event for the students to celebrate the beginning of a new school year and give them a chance to enjoy fun games with new and old friends.
Ladies' Salad Social
This evening is an opportunity for WCGS women to come together for food, fellowship, and an inspiring program. It also serves to acknowledge the contributions of our many wonderful volunteers, faculty and staff.