The annual Awards Assemblies were held on May 30, 2018 to honor Wheaton Christian Grammar School's students for their achievements throughout the school year.
On May 30, Wheaton Christian Grammar School's students in grades 1-8 gathered to celebrate the accomplishments of their peers in academics, the arts, and service throughout the school year. This time recognized a large number of our students who participated in academic and fine arts competitions and clubs. Students were also recognized for academic honors and the President's Education Awards.
This year's awards were given to participants in:
ACSI Creative Writing Contest
ACSI Math Olympics
ACSI Speech Meet
ACSI Spelling Bee
Battle of the Books
Illinois Math League Contest
Jr. High Reading Program
MathCounts
National Geography Bee
Student Council
Young Adult Battle of the Books
Distinguished Awards were also given:
Director's Award (Band) - Jillian Reid
Director's Award (Orchestra) - Nickolas LoGalbo
Instrumentalist Magazine Award (Band) - Kristina Fabela, Faith Olsen, David Gieser, Joseph Toly, Nathaniel Gordeuk, and Will Black
Instrumentalist Magazine Award (Orchestra) - Dakoda McCallum, Madelyn Jones, and Matthew Stoner
Choral Excellence Awards - Anna Jones, Kennedi McClure, Olivia Barlow, Hanna Fritz, and Kathryn Smiley
National School Choral Award - Andrew Gatto and Madelyn Jones
Louis Armstrong Jazz Award - Kaleb Cruz
ILMEA District Orchestra - Nickolas LoGalbo and Abigail Rathbun
ILMEA District Band - Joe Toly and Nathaniel Gordeuk
ILMEA District Choir - Anna Jones, Madelyn Jones, and Kathryn Smiley
Al & Marti Knudsen Excellence in Art Award - Sara Swoboda
Wheaton Academy Scholarship - Sheldon Powell
American Legion Awards - Samuel Anderson and Megan Cherry; Honorable Mentions: David Gieser and Faith Olsen
Administrator's Awards - Nathaniel Farrell, Kendall Beck, Dakoda McCallum, and Benjamin Eldersveld
Todd Beamer Memorial Award/Scholarship - Hanna Fritz and Nathan Gordeuk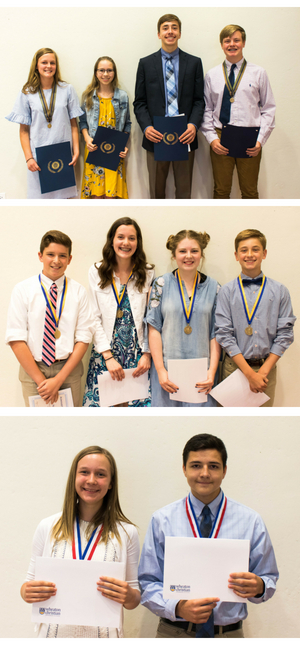 Other awards given include the ACSI Art Awards, Book-it Reading Awards, and Accelerated Reader Awards. We are proud of all our students and their hard work this year! God has great things in store for all of them as they develop and use their gifts and talents.