Preparations for the 76th year of Wheaton Christian Grammar School continued with teachers back on campus for In-service this past week where Head of School Steve Clum delivered his State of the School Address to faculty and staff.
This year's address discussed the Lord's provision over the school and the school's commitment to deliver an outstanding Christian education while building and fostering relationships.

Mr. Clum began his address expressing his appreciation for the faculty and staff's service to the school and that every person can be a part of WCGS's rich legacy of excellence. He noted the many changes among faculty and staff over the last year, offering advice on how to serve each other through the generations. "Let's commit to a smooth transition, invest in one another, and carry forward the work and ministry of Wheaton Christian Grammar School. We have something special here."
We are grateful for the Lord's provision of helping us exceed our Scholarship Fund goal of $425,000 and the ability to close in on $2.3 million for retiring our debt. The school is in a stable position financially, and we are praising God for the ability to meet our budget for 2016-2017, while still being able to help others.
In a survey of alumni who just graduated from high school, 85% took AP/advanced courses with hopes to study in areas such as dietetics/nutrition, computer engineering, psychology, business, graphic design, elementary education, and many others. Among the class, a high percentage said that their WCGS experience was excellent, helping to prepare them for their future through technology, academics, and independence.

Mr. Clum closed his address by saying, "Part of our ministry is about mentoring young lives. We've hired you to teach and lead. Lead. Move the school forward. As we do so, keep the following in mind: 1 Peter 4:11 – 'Whoever serves, let him do so with the strength that God provides, in order that in everything God may be glorified through Jesus Christ.' And 2 Corinthians 3:2-3 – 'You yourselves are our letter, written on our hearts, known and read by everyone. You show that you are a letter from Christ, the result of our ministry, written not with ink but with the Spirit of the living God, not on tablets of stone but on tablets of human hearts.'"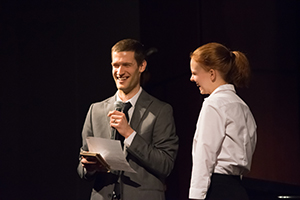 In addition to the State of the School Address, WCGS alumnus and present-day Orchestra and Praise Team Director, David Petersons, spoke during in-service on why he works at WCGS. He noted that it is a privilege to work at the school that helped build the foundation of who he is today, equipping students to create music all for the glory of God. Mr. Petersons considers it an honor to invest in the next generation, showing how every student's life is valuable and meaningful. "Let everything that has breath praise the LORD." - Psalm 150:6