On October 12, 2018, Wheaton Christian Grammar School hosted its annual Scholarship Benefit and Auction to raise funds for its Scholarship Fund.
Wheaton Christian Grammar School hosted its Annual Scholarship Benefit and Auction on Friday, October 12, which raised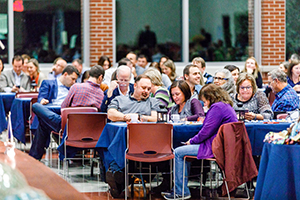 more than $102,000 for the Scholarship Fund! This money goes toward the $425,000 goal each year to help families send their students to WCGS.
The $102,000 combined with $68,000 that had already been raised puts WCGS at 40% of our 2018-19 Scholarship goal. Praise be to God for this accomplishment! Thank you to everyone who participated for "Coming Aboard" and achieving our goal for the evening!
The Scholarship Benefit and Auction was a wonderful time gathering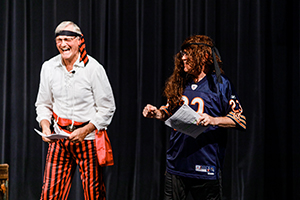 together with the WCGS community for a special cause. The evening featured an interview with a school mom and student, hearing from 8th grade homeroom and Jr. High Literature teacher, Mrs. Jackie Messer, on why she teaches at WCGS, and a fun performance for our live auction with three wonderful auctioneers. (This picture will give you a peek into the performance, but you'll have to watch the recap video to see more!)
Here are a few of our favorite quotes from the evening:
Every single class that we do here is linked back to God. It's really special to be able to do that.
What God spoke to my heart is that "I will provide as long as I provide" and I felt peace in that.
That's one of things I love the most about WCGS is our community here.
To see the recap of the night's events, as well as Mr. Burgess, Mr. Clum, and Mr. Painter as our pirate auctioneers, watch the recap below:
We know many could not attend or weren't able to participate this year, but there is still time to make a difference in the lives of our students. If we can raise another $42,500 by October 31, that would put us at 50% of the way towards our goal. There
are still items for purchase on our auction site, including 8th grade devotionals and ASICS running shoes (specifically for track and cross country). You also have the ability to donate however much you feel led to give on that site as well.
Click here to find items and donate
.
Thanks for your consideration of this special opportunity to support the good work God is accomplishing at Wheaton Christian Grammar School.