We are excited to introduce you to our new hires for the 2018-2019 school year!
We are excited to introduce you to our new hires for the 2018-2019 school year! This year we have four new faculty and staff members who will be joining our team, so let's get to know them!
Mrs. Valerie Busch (Center): Valerie is a familiar face around WCGS. She was a substitute teacher here for a number of years and is a current school parent, but one of her main passions is teaching Spanish. She will be bringing her expertise to our team next year teaching the 7th grade Spanish introductory course, as well as teaching Kindergarten, 1st, and 2nd grade Spanish. She has a diverse teaching background including her participation in an education program in Spain. Valerie has her B.A. in Elementary Education and her M.A in Teaching Elementary Education.
What Valerie is most excited about this year: "I am looking forward to getting to know the students and their families, as well as being back in the classroom."
Mrs. Mandy Jasper (Photo to the Right): Mandy is also a familiar face here at WCGS as she is a current school parent. She is joining our team as our school social worker, enhancing the academic and spiritual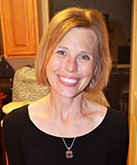 mission of WCGS. Mandy will work on bridging the home and school community by helping students with issues that affect their school performance, behavior, and socialization. She has her Bachelors in Social Work and Religion, her Masters in Social Work, as well as past experience as an early childhood behavior specialist, prevention/intervention counselor, and tutor.
What Mandy is most excited about this year: "I am excited to build relationships with students, families, and co-workers while supporting the social-emotional needs in the WCGS community. It is an honor to be able to support students from a wholistic framework."
Miss Elise Roberts (Left): Elise is starting her teaching career here at WCGS as our 5th grade homeroom and science teacher. She graduated from Wheaton College in May 2018 with her B.A. in Elementary Education. Elise did her student teaching at Edison Middle School in Wheaton, IL, as well as helped in a 7th grade classroom at Franklin Middle School.
What Elise is most excited about this year: " I am excited to meet and get to know all of the 5th graders this fall!"
Mr. Luke Spradley (Right): The Spradley name is not new to WCGS as Luke will be teaching alongside his wife, Mrs. Audra Spradley (current WCGS art teacher), beginning this fall. He is joining the WCGS faculty as our jr. high science and 8th grade homeroom teacher. Luke received his Bachelor of Music Education from Wheaton College and is endorsed in General Science (grades 6-8). He has taught at a variety of Chicagoland schools and is most excited "to be part of the excellence that WCGS offers in all areas."
Fun Fact: Luke and Audra just welcomed their first baby, Judah, this past June!
Honorable Mention: Mrs. Mary Beth Laptad (1st Grade): Mary Beth will be starting her second year here at WCGS this fall, but has moved down the hall from 3rd grade to 1st grade. We are excited to have Mrs. Laptad and Mrs. Hravatic as our 1st grade team this year!