Student, Israel Stone, took a leap of faith and traveled down to Houston to serve God and His people after Hurricane Harvey.
On August 25, 2017, Hurricane Harvey hit Houston, Texas, bringing devastation to the city and an opportunity for the United States to rally together and give aid. The needs of the Houston people touched the heart of 8th grader, Israel Stone, who traveled to Houston to help provide supplies with his church as a part of the hurricane relief.

The church's mission campaign, "With Love, For Houston," collected supplies and finances to help churches in Houston assist those who had been affected by the hurricane. When in Houston, Israel saw whole towns fooded—people were even being rescued by Jet Skis! There was a distribution center where Israel and the other volunteers worked to load and unload supply trucks, repack materials, and send them back out in the communities.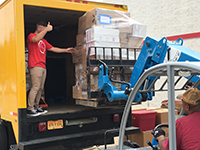 Although Israel didn't know anyone in Houston, he felt called to pray,
support, and go. "For me, it was exciting to faithfully serve God by being involved in gathering supplies, loading the truck, and then going down to Houston to help with the relief efforts," he said. "I saw first-hand how when everyone does whatever they can–when we all do our part–God takes the few loaves and fishes we have and somehow multiplies it and uses us to feed a multitude."

Israel heard many stories and saw God working amidst the chaos in
Houston. He shared his experiences with his fellow classmates in
chapel and reminded them that God calls everyone to faithfully serve
Him in whatever capacity they can. When people follow His calling, big
things happen.