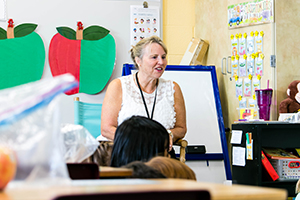 The Lord led Sue Hravatic and her husband to the mission field in Nairobi, Kenya, for 13 years, but little did she know that a colleague in Kenya would be the resource that would help Sue find Wheaton Christian Grammar School. In the Hravatic's transition back to the United States to be with family, this colleague and former WCGS student had recommended to Sue that she should apply to teach there. After research and lots of prayer, she knew this was the next mission field in which God wanted her to serve.
Sue is now in her third year at WCGS teaching 1st grade and feels settled and at home. Working at WCGS has been a blessing to her because of the wonderful, appreciative families and caring staff. The support is unlike she has ever seen in her 25 years of teaching.
How does she like 1st grade? "There is never a dull moment! I absolutely love hearing the hilarious things they say," says Sue. "You also get a glimpse of the wonder in their eyes as they learn. There are many 'light bulb' moments that happen, and it's exhilarating and rewarding to watch it all unfold."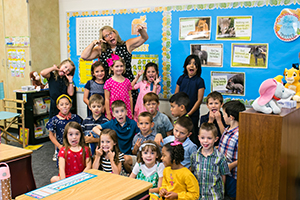 The Lord is at work in 1H. Sue says they have many "out of the mouth of babes" type of moments where they reveal God's character to one another. "Their innocence is refreshing." The class is continuously working together to find God-sightings, and the connections the 1st graders make are remarkable and tender!
Sue decided that she wanted to become a teacher when she was in 2nd grade, so working with her students every day is a dream come true. She is grateful to be able to play a part in her students' lives.