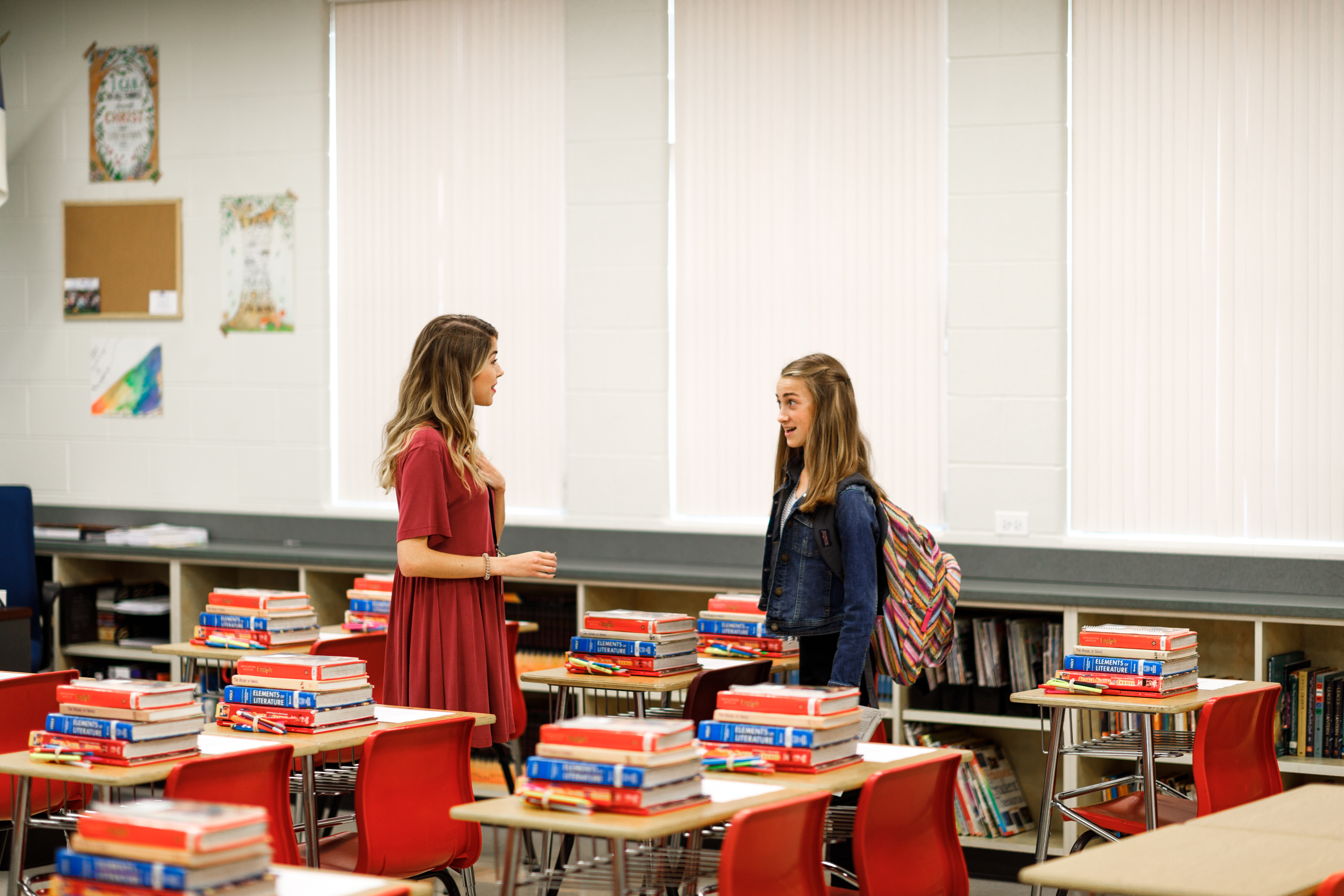 The Kaleidoscope Program is a menu of seven services for students who need academic support to benefit from their educational experience at Wheaton Christian Grammar School. Many students enrolled in the Kaleidoscope program have diagnosed learning disabilities in one or more academic and/or perceptual areas (i.e., reading, spelling, math, written expression, handwriting, etc.).
1. NILD Educational Therapy
This is for students (Gr. 3-8) having documented learning disabilities in any academic area(s). Based on a model of intervention developed by the National Institute for Learning Development, it uses interactive language and cognitive skills training to impact perceptual processing and academics. A total of 160 minutes of instruction are offered weekly with some homework and parental involvement required.
2. Wilson Reading Program
This is for students (Gr. 2-8) who may or may not have a diagnosis of dyslexia but who need explicit, direct instruction in the structure of language. This multi-sensory interactive program is designed to specifically impact reading (decoding) and spelling. To be of maximum benefit, three 60-minute sessions (180 minutes total) per week are strongly recommended for steady progress to occur.
3. TEACH©
This is for students (Gr. K-1) who need stimulation and development of the basic foundational skills of perceptual readiness (visual, auditory, visual-motor, directionality/body image) prior to formal reading instruction. It is the intervention portion of SEARCH & TEACH, an early identification and intervention program used at WCGS. All Kindergarten students are given the SEARCH during the first quarter of Kindergarten. Students receive 90 minutes of instruction a week, and no homework is required.
4. Modified TEACH©
This is for students (Gr. 1-2) is a continuation of TEACH tasks with additional activities designed to correlate with classroom expectations in the academic subjects of reading, spelling, written expression, and math as needed. Minimal homework may be assigned for maximum benefit.
5. Individualized Instructional Support (IIS)
This is for students (Gr. 3-8) needing instruction in a specific academic area of difficulty (i.e., math, written expression, reading comprehension, etc.). It is also designed to help students with organization, homework, long-term projects, and assistance with other classroom work through collaboration with the classroom teacher(s). Students receive a total of 90 minutes of instruction per week.
6. Handwriting Instruction
This is for students having difficulty in visual-motor performance in the classroom or who enroll at WCGS after grade 2 without previous cursive writing instruction. Teachers typically refer students they observe having significant difficulty in this area. Students receive three 20-minute sessions per week, and no homework is required.
7. Rhythmic movement
This is for students (of all ages) needing simple, whole-body movements to stimulate their brain's natural developmental process and promote more efficient learning. Movements calm the nervous system, strengthen patterns needed coordination, and stimulate neural connections for whole-brain functioning. Maximum benefits result from daily practice. Three 20-minute sessions are required at school; parents can be trained to lead additional practice at home.
Program financing: Kaleidoscope families pay a fee for these services above their regular tuition. Because of WCGS's commitment to early identification and intervention, the TEACH program is partially subsidized by the school. Every effort is made to keep the cost affordable, and tuition assistance is available for those who qualify.
Kaleidoscope staff: Kaleidoscope teachers are all former classroom teachers who are now Educational Therapists and have become certified in learning disabilities. The work they do with students is similar to tutoring but is more specialized in terms of interactive language and explicit, intense cognitive and perceptual stimulation.
For further information on the above programs, contact Mrs. Mandy Jasper, Student Services Director, at 630.668.1385, ext. 272.
WCGS also employs a reading specialist to assist students in grades 1-3 who need extra assistance in reading acquisition in a group setting.