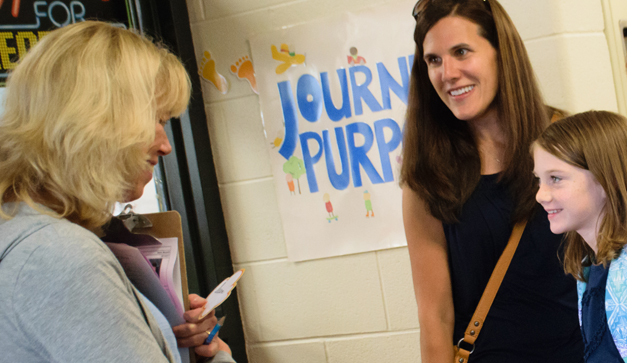 It's one thing to read about Wheaton Christian Grammar School, but it's another thing entirely to visit. When you walk through the doors at our campus, we believe you'll feel the strong sense of caring community that school parents have found here for 75 years. You'll see classrooms and common spaces, the leading edge technology that helps our students excel, and best of all, you'll meet the team members who have made this an acclaimed and respected Christian school throughout the Chicago area and around the nation.
Drop In and Learn More, Tuesdays at 9 a.m.
We welcome visitors each Tuesday morning from 9 - 10 a.m. when school is in session. This is an easy way to meet our staff, get a glimpse of school life, pick up some literature, and have your initial questions answered. It's often the springboard to continued conversations!
Individual Tours and Student Shadowing
For an individual tour or to schedule a student shadow day (grades 3-8) please contact Kim Norbeck at 630.668.1385, x 216.
Visit Night
Tuesday, March 20, 2018 at 7:00 p.m.
For details, contact Kim Norbeck at 630.668.1385, x 216.
Take a virtual tour of our campus
WCGS's campus provides a spacious and up-to-date learning environment for our Kindergarten - 8th grade students. With 35 acres and approximately 90,000 square feet, our campus provides an optimum environment for students to thrive.