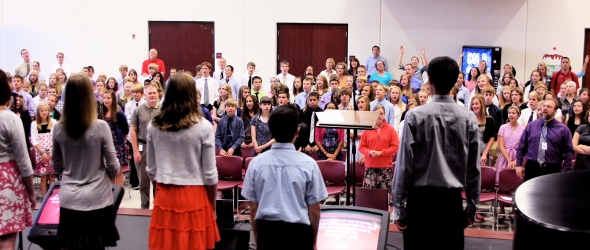 There are many schools with a faith component ... what makes WCGS different? We believe that Christianity is at its heart transformational: true faith will result in spiritual growth. Since we believe that the Bible is the true and inspired Word of God, we strive to view all academic disciplines and all relationships through the grid of Scripture.
We want our school, our faculty, and our students to reflect the unchanging truths revealed in God's Word. As you enter our school and look down the gallery hallway toward to the Commons, you'll be struck by the calligraphy above its doorway from Psalm 86:10-12:
"For you are great and do marvelous deeds; you alone are God. Teach me your way, O LORD, and I will walk in your truth; give me an undivided heart, that I may fear your name. I will praise you, O Lord my God, with all my heart; I will glorify your name forever." These verses from God's inspired Word truly capture what we want our entire school family to know, believe, and live out!
We take prayer seriously. Prayer is a natural part of every student's experience at WCGS. Teachers meet for Bible study and prayer. See You at the Pole, an international student movement of prayer, is observed each September at WCGS. And it's not just students, faculty and staff who are praying. School parents meet regularly to pray for our students, our teachers, and our school (Fathers' Prayer Meeting and Breakfasts, Moms in Touch, Women's Bible Study). Chapels, held once each month, examine our school verses in depth and provide practical application. The junior high worship team leads their grade level chapel. Speakers include teachers, administrators, parents, and local pastors.
Spiritual Formation and Character Goals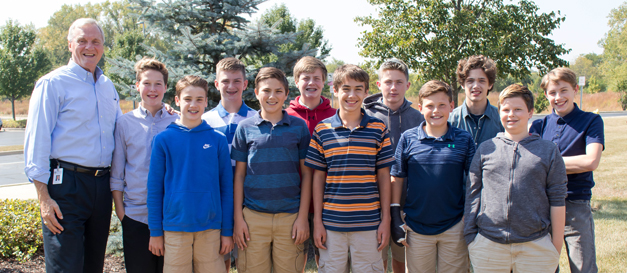 (Above, Head of School Steve Clum with his 2017-2018 Connect Group. Jr. High students meet weekly with a faculty or administration mentor in small group setting designed to foster Christian community and spiritual growth.)
WCGS is committed to discipling students so they will hear the Gospel of Jesus Christ, have the opportunity to respond to Him in faith as Savior and Lord, and exemplify through their choices and actions a life of integrity, conviction, and compassion based upon the Word of God.
WCGS understands that parents have primary responsibility for developing spiritual disciplines and character traits in their children. WCGS desires to support and collaborate with parents in this process, with the realization that this is a lifetime journey and is ultimately dependent upon the transforming work of the Holy Spirit to breathe true spiritual life into a child's heart. WCGS will focus on both cultivating a sensitive heart and equipping the mind (Prov. 22:6, Prov. 4:23, Col. 3:16, Phil. 2:5).
Spiritual maturity starts by hearing the gospel of Jesus Christ, responding by faith and then cultivated by a focus on Jesus Christ and our role as image bearers of Christ-likeness. WCGS will ground spiritual formation and character development in the life and teachings of Jesus Christ. At every grade level, faculty will proclaim the gospel of Jesus Christ and His offer of salvation by grace through faith (Luke 2:52, Eph. 5:1-2, John 15:5, Matt. 13:23).
WCGS focuses on encouraging these spiritual disciplines as a response to growing faith in Christ:
Prayer—Spending time communicating with the Lord privately and in community (Mark 1:35, 1 Thes. 5:16-18, Eph. 6:18, Phil. 4:6).Scripture Reading—Developing a habit of regular, systematic Scripture reading to understand the story of God at work in the world and, by application, in one's own life (Deut. 17:19).
Scripture Memorization—Committing to memory key truths from the Word of God (Ps. 119:11).
Journaling—Writing thoughtful reflections and applications from the Word of God (2 Tim. 2:7).
Service—Helping others and sharing the love of Jesus Christ through action (Eph. 6:7, Mark 10:45)
Evangelism—Sharing your faith with others (Matt. 28:19).
Worship—Praising the Lord and hearing from the Word of God in community (Ps. 7:17, 30:4, 147:1).
WCGS focuses on developing a wide range of biblical character traits as a response to following Christ. They include:

Respect for self and others—Knowing who you are in Christ. Seeing self and others as made in God's image (Rom. 12:1-2, 1 Peter 2:17, 1 Cor. 10:24, 1 John 3:1, Eph. 2:10, Matt. 19:19).
Integrity/Honesty—Being upright, wholesome, trustworthy. Not being deceitful in speech or action (Prov. 12:22, Prov. 10:9, Col. 3:9-10, Eph. 4:25).
Self-Control/Self-Mastery—Understanding there is a time and place for everything. Allow the Holy Spirit to control you from the inside out (Gal. 5:22-23, 1 Cor. 9:24-27, Prov. 25:28, 2 Peter 1:5-8).
Compassion/Kindness—Kind, forgiving, servant heart, putting the needs of others before your own. Concern for the spiritually lost (Col. 3:12, Eph. 4:32, Rom. 12:10, Mark 6:34, 1 Peter 3:8, Phil. 2:3-8).
Gratitude/Contentment—Being thankful in all situations for God's provision (Eph. 5:20, 1 Th. 5:16-18, 1 Tim. 6:6).
Responsive to Authority—Respectful of authority including parents and school personnel. Willing to listen to godly counsel (Eph. 6:1-3, Prov. 12:15, Prov. 19:10, Rom. 13:1-2, John 14:15).
These disciplines and traits are incorporated into each grade level with consideration of age-appropriate lessons and activities. WCGS expects each student to prepare and own their development goals as they mature over time. WCGS encourages individual reflection of year-over-year growth, not a peer comparison. WCGS expects faculty, staff, and the Board of directors to lead by example and set their own goals related to spiritual growth.
It is our fervent prayer that WCGS will be a community of faculty, staff, Board members, parents, and students who are rooted in Jesus Christ as Lord and Savior (Col. 2:6-7) and are growing in Him.